What are Dental Implants?
(Also Known as Tooth or Teeth Implants)
The Dental implants procedure (also known as tooth implants or teeth implants) are ideal solutions for missing teeth problems. These are artificial tooth roots that are embedded into the jaw bone, providing a secure anchor where teeth replacements like dental crowns or a dental bridge can be attached to.
Dental Implants are great for those with generally good dental health, who have lost a tooth (or several/all teeth) due to dental problems, gum disease, accidents and injuries, or various reasons. Replacing your missing teeth with dental implants provides a way for you to get your full confidence back, since the implants (and the teeth replacements attached to them) look and feel very natural.
Dental implants (teeth Implants) stay firmly in place, and look like your natural teeth – unlike dentures, which have a tendency to move around inside the mouth and can look unnatural when you smile. The implants make it possible for you to enjoy both your personal and professional life in the most confident and most natural way.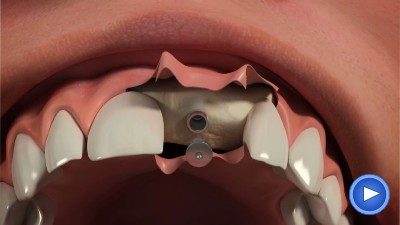 You can say goodbye to awkward-looking smiles with the help of dental implants!
Dental implants (Tooth Implants – for Missing Teeth Solutions) are also ideal for securing loose dentures, which can cause a lot of embarrassment and pain for the wearer. If you are sick and tired of your dentures moving around unnecessarily inside your mouth, you can have them secured in place with the help of implants. The implants will be placed directly in your jaw bone, and will provide a steady base where the dentures will be attached to.
You can say goodbye to awkward-looking smiles with the help of dental implants!
Dentures that won't stay put?
Secure them with dental implants.
As the dentures will be firmly connected to the implants, these teeth replacements will not move around on their own anymore – ending periods of discomfort and embarrassment when the unexpected movements catch the wearer unaware. Smiling, eating, speaking, and even chewing food will be made much easier and more comfortable to do, when dentures are secured with dental implants.
Options for Multiple Implant Dentistry
or Full Mouth Implants at "Implants in London"
Multiple implants are used in cases when several or all teeth have been lost due to a variety of reasons. A single dental implant is used for a single missing tooth, but that doesn't necessarily mean that every tooth will have a corresponding implant embedded into the jaw. For example – an entire jaw of missing teeth can be replaced with five or six dental implants, which will then be attached to a dental bridge or a set of dentures.
Full mouth implants provide much better missing teeth solutions compared to removable dentures. The implants prevent the onset (or the worsening) of jaw bone deterioration because they replace the natural tooth root that has been lost along with the missing teeth. Bone deterioration can negatively affect the structure of the jaw bone and can make the face appear hollow and much older. The use of dentures does not address the issue of bone deterioration, since these teeth restorations do not have tooth root replacements.
Bring back healthy smiles – even after multiple tooth loss.
Dental implant Dentistry at 'Implants in London' can make your smile attractive once again, even after you have lost a few or all of your natural teeth. The implants provide a secure base to which a dental bridge or a set of dentures can be attached to; these teeth replacements will feel very natural and secure compared to a removable set of dentures, which can become ill-fitting with long-term use.
The loss of several or all missing teeth can be a traumatic experience, but you can bounce back from that loss with your smile intact with the help of dental implants. You can speak, smile, and eat your favourite foods items without difficulties once more with the help of multiple implants. The number of implants to be used will depend on how many lost teeth will need to be replaced. We will make sure that you will be informed every step of the treatment procedure, so that you will know your best options for full mouth implants.
Who Can Have
Dental Implants?
Dental implants offer numerous advantages for you if you:
Wear Dentures
Dentures can replace both the form and the function of missing teeth. However, due to the removable nature of dentures, they have a tendency to lose their comfortable fit with long-term use. Once dentures become ill-fitting, the wearer will experience discomfort as the prosthetic teeth move around inside the mouth, painfully rubbing against the gums and the soft tissues. Dental implants can be used to secure the dentures in place, so that they will not move around inside the mouth. Dentures that are secured by implants will also eliminate the embarrassment caused by the unexpected denture movement (for example: dentures falling off when the wearer laughs, or chews food).
Lost Teeth due to Gum Disease
Gum disease is one of the most common causes of tooth loss. Severe problems that affect the gums cause the tissues to lose their structural support for the teeth; if left untreated, the gum disease can lead to the loss of natural teeth. Dental implants effectively replace the missing teeth by acting as an artificial tooth root, which is then attached to a prosthetic tooth or teeth replacements (such as a dental crown or a dental bridge).
Lost Teeth due to Accidents or Injuries
Accidents or injuries can also cause the loss of natural teeth. In these unexpected cases, the teeth are knocked out completely from the socket, creating a problem with both the function and the aesthetics of a smile. A missing tooth, or several missing teeth, due to accidents can be replaced with dental implants. The implants can bridge a gap caused by a knocked-out tooth (or teeth), restoring the normal form and function of the smile after the unfortunate incident.
In general, you will need to have a fairly good dental health condition to be able to qualify for a dental implant treatment.
Good jaw bone structure is also beneficial for an implant treatment, but we will discuss all the options available for your individual case should you have issues with your oral health, or with insufficient jaw bone mass.
Stages of Implant Placement
(by Implants in London):
1
A small hole is created within the Jawbone, which will accommodate the Implant.
2
The Titanium Dental Implant is placed (or screwed) into hole in jaw.
3
A Titanium Implant Post is Screwed and permanently fixed into the head of the Implant. This Implant Post will hold the final Tooth Crown. Implant Posts come in a variety of different angles and sizes.
4
A Porcelain Crown that is made to match the colour of your natural teeth is permanently fixed onto the Dental Implant Post. The result is, natural looking, extremely robust teeth and a more confident looking you.
Missing Teeth Options (Front of Mouth)